Good Stuff
We(as in my hubby's side of the family) all went out today to celebrate my up and coming b-day. We went to one of my favorite restaurants, Max & Erma's where I had their tortilla soup and a baked potato. Very yummy!
My pop-in-law got me a really great gift. He bought me a collection of
Creed
tunes on CD. I love this band because they are so passionate with their songs. I somehow feel at peace when I listen to their music. This collection also includes a dvd that has some of their songs that were performed in concert. Good stuff!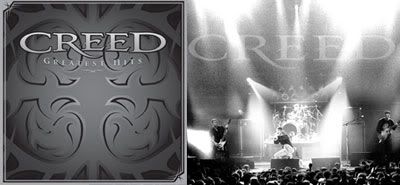 Creed rose to the top of the rock world through relentless touring and huge success at radio that yielded eight #1 hits. Over the decade they spent together, they built a massive fan base. This collection brings together the hits that fueled this phenomenon for the first time, with a bonus DVD featuring all nine music videos the band created with three additional performances never before available to fans. Together they display the true essence of what made the band members' collaboration so poignantly special to the millions who embraced their sound.
The hubby and I are in the process of finding a low cal pizza, which we both have been craving. I have been looking online and comparing the different pizzas and their nutrition content. I think we are going to go for
Pizza Hut's
lower fat pizza pie. It's about 150 calories per slice. I will try not to have more than 3 slices. Time will tell.
Life is grand with pizza!