"And Then...I Ate The Bowl!"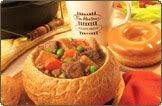 The hubby and I had
Tim Hortons
the other day since he had $5 in gift certs from C-mas. He would have spent it on a flavored cappuccino, but with our diet that would not be possible. So, we decided to try something new.
I must say that I had one of the best fast food meals of my life. I had their chicken stew...in a yummy wheat bread bowl. It was so delicious! There was so much chicken and all the veggies were cooked just right. The thick sauce from the stew tasted wonderful on the wheat bread. OH MY!
It's was not to bad on the calorie scale. The soup has 233 calories and the bread bowl has about 213 calories. It was perfect for dinner and I almost couldn't finish it. I might go back and get another one next week. Everyone has to try this!
Life is grand when you can eat your soup bowl!