A Grad Party
I have so much to write about that I don't feel like writing at all...but here goes.
Yesterday was my bro's graduation party. I was in charge of making fruit salad and about 300 chocolate graduation hats(along with buying all the napkins and candy for the pary). My hubby and started on the hats around 6 pm the night before. After 5 hours of work, we had about 275 little hats.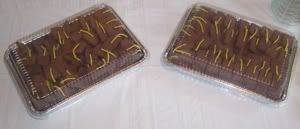 The peanut butter cups(and Rolos) were unwrapped, dipped in chocolate and placed on a gram square. Then long pieces of pull apart twizzlers were also applied after having a tassel cut into one end. It was a long and tedious process!!!
On party day, we(my hubby, son, and I) made sure to get over to my mom's early to help set up and clean(we got there about 9am). I was sent to the finished part of the basement to pick up and dust. Then I got on my hands and knees and cleaned all the tile floor in the third floor(of a split level house).
After setting up three large tents and several folding tables and chairs, a few of us left the house to pick up food, the cake, balloons, and lunch. When we got back, my sis and I decided to decorate my bro's car. We tied on balloons and wrote all over his car windows(it's too bad it rained later and washed all of our hard work off).
Around 3:30, we started getting the food and drinks out. By 4 the house was beginning to fill with tons of people. I decided to stay in the kitchen to help(I didn't have to since my mom's best friend was assigned this task) with all the behind the scenes work(what I'm good at). So I filled the cups with ice, replenished the food, napkins, cups, forks, and candies, was the food runner(since the extra food was down in the basement) and the cake cutter, etc, etc. It was def a two person job so I'm glad that I was willing and able to help.
The party ended up being a success! There was plenty of food and fun. My brother had a wonderful time making the conversation rounds with my mother.
My family of three ended up staying till 10 so that I could clean up the kitchen, family room, and living room. I didn't want my mother to have to do any of that.
Tomorrow's post will have pics from my brother's graduation ceremony...he is too cute!!!