Fun Trivia
As most of you know, I have
Trin's Trivia
located on the right side of this blog below my mood. If you click on the link, it will take you to my trivia movie quiz which is changed daily. It is part of
funtrivia.com
, one of my fav websites. Not only can you take great quizzes, but you can eventually make some of your very own! Exciting stuff, huh? Anyway, I will be making up my own quiz after I have met the qualifications for a creator. I have already taken the required 100 quizzes, but I need to be a member for another 3 weeks.
I am currently working on a quiz about one of my all time fav movies,
The Village
. I noticed the other day that currently there is no quiz about this movie, nor Unbreakable. If you are fans of these movies, let me know some interesting trivia so that I can include it on my quizzes!
Pic below from one of my fav scenes from
The Village
. Anyone know why Ivy is holding out her hand?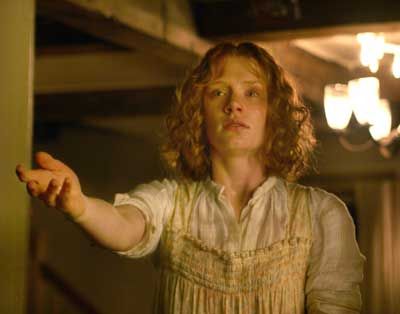 Btw, who decided to wait till after C-mas to release
The Village
on dvd? Crazy!!! I want this under the tree this year! Ahhhhhh!!!