The Stepford Wives
Joanna Eberhart(Nicole Kidman), a wildly successful president of a TV Network, after a series of shocking events suffers a nervous breakdown and is moved by her milquetoast of a husband, Walter(Matthew Broderick), from Manhattan to the chic, upper-class and very modern planned community of Stepford, Connecticut. Once there, she makes good friends with the acerbic Bobbie Markowitz(Bette Midler), a jewish writer who's also a recovering alcoholic. Together they find out, much to their growing stupor and-then horror, that all the housewives in town are strangely blissful, and somehow... doomed. What is going on behind the closed doors of the Stepford Men's Association and the Stepford Day Spa? Why is everything perfect here? Will it be too late for Joanna and Bobbie when they finally find out?
Last night
Drifter
and his wife came over to watch Stepford Wives with me and the hubby. We all thought it was pretty good, but were annoyed at all the product placement. There most have been at least a dozen different products shown throughout the movie.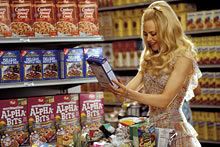 Matthew Broderick was in this movie, but I was so disappointed with him. What's happened to him? He was wonderful in Ferris Bueller's Day Off. I guess he just hasn't been the same since marrying Sarah Jessica Parker.