They're Gone!!!
My
Tim Hortons
bread bowls are gone!!! Man, I was so upset to find this info out. My sis and I went over yesterday to relieve my craving for them...and that's when we found out the bad news. The cashier told us that the bread bowls were just a seasonal item. I was so hacked! We ended up leaving with our stomachs still empty.
We ended up going to
Fazoli's
. They have a great menu full of low cal and low carb options. I decided to get the grilled chicken platter (
Whole grilled chicken breast topped with Marinara Sauce, penne topped with Marinara Sauce, and a side of seasoned broccoli. Full meal only has 7 g of fat, and only 8 net carbs with double broccoli
.), which only has 400 calories. I don't like broccoli, so my sis got to add it to her fettuccine. My sis and I also got ourselves some lemon ices with strawberries. They were soooo very good at only 190 calories!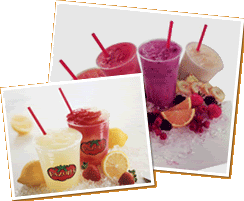 The only problem with going to Fazoli's is not eating their wonderful, delicious, mouth-watering breads sticks. The restaurant people even bring over baskets full of hot bread to each table. The sticks are/were such a temptation for me, but I only had half a one. I was so proud of myself. I definitely didn't want to have any more since they are 140 calories apiece!!! Crazy I tell ya!
Life is grand with lemon ices!