The Graduation
Since my sis and I both got off of work around 4, we decided to be the first ones(of our family)to get to the
Schottensteins Center
to save(17) seats. We got there around 5:30 and had to stand outside till the doors opened at 6. As soon as those doors were open, my sis and I(with a back-pack on and a 40 pound three year old in my arms) ran down the hallway passing several people along the way.
We ended up getting the best seats possible to see my brother. And he looked so good!!! When I first saw him walking to his seat, I actually teared up. I was(and am) so proud of him!
It was a pretty long ceremony(over three hours) with over 400 graduates in his class. My brother and hubby kept text messaging each other to pass the time. And, my son was very well behaved the entire time. He sat quietly in someone's lap while watching the Seniors hit around beach balls(which they weren't even allowed to have).
Here is a pic of my bro, on the left, with his two good friends. The one in the middle got "
lei
-d" right after the ceremony!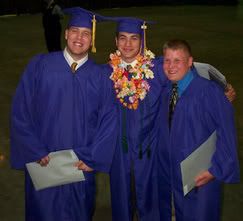 Here is my bro holding my son. That's my hand in the pic since my son didn't want to wear the hat...he wanted his uncle to wear it.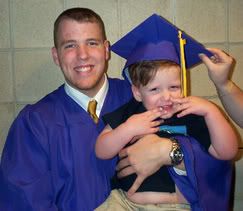 And here is one more of my gorgeous brother...and oh yeah...that's me on the right. Don't we look so good together?!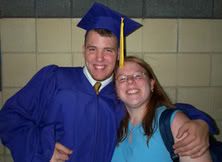 Life is grand with a graduated little brother.