And We're Back!
The wedding was wonderful...short, but wonderful. It lasted only 25 minutes! I couldn't believe how fast it went! But, they are now married and that's all that matters.
After the wedding(that we went to in Cincinnati), we headed over to the hotel where my hubby and I were staying for the night. It was also the location the reception. Since the bride's father works for the hotel, he def took care of us. We had some great food(at the reception) along with a fabulous room. It had a sitting area separate from the bedroom. It had a microwave, fridge, desk, chairs, and a fold-out couch. And both rooms had it's own tv! So, my hubby and I had HBO on one tv and Starz on the other. We were def not used to such a nice room. And we were only able to afford it because of the father of the bride. Thanks dad!
Instead of swimming after the reception, we decided to catch a movie. The movie theater we went to was the largest one I have ever been to! It was beautiful and it had several different non-movie types of food...like pizza and ice cream cones. The theater also had a bar and a restaurant that had a grand piano in front of it. Nice!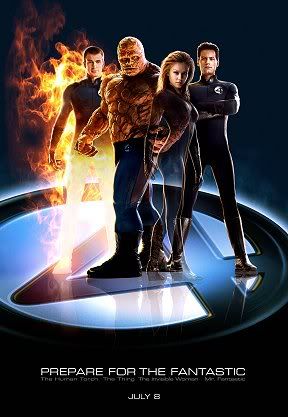 My hubby and I decided to see
Fantastic 4
. It was an awesome movie! It was nice that I didn't know much about the actual story of the F4, so I wasn't comparing the movie to the comic books the whole time. The movie had tons of great action, but the ending needed just a bit more. It almost seemed anticlimactic. I don't know. But I still love this movie!
Today, instead of rushing home, my hubby and I went over to the
Cincinnati Mills Mall
. Good grief, it was huge! It had not only a first run movie theater in it, but a second run! The mall also had a roller coaster for kids along with a grocery store!!! I have never spent so much time in a mall before...with my hubby!
Well, we are back at home now...and it feels great. As much as I like getting away, I love just being at home. It's my comfort zone. And I guess life is just grand that way!