Found Kitten!
My hubby called me up today saying that another abandoned(and almost run over) kitten was found at his work. He thought that my sister would like it since I was going to get her a kitten for Christmas this year. So anyway, I called up my sis to see if she wanted it, and before I could finish my sentence, she said yes!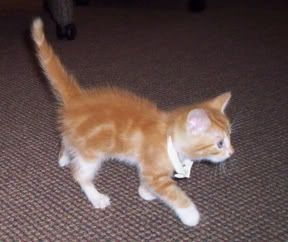 I made arrangements for a doctor's appt for the little kitty. She is quite small and is covered with fleas! She was given several baths today, but I hope her doctor's visit helps tomorrow. My sis and I also went out and got all the needed supplies. She did have much money, so I gave her a lot of my extra kitty stuff (litter box, litter, food, etc).
I hope this kitty, now named Hope(don't ask me why!), gets my sister's mind off the guy she is dating. They are going through a rough patch right now and she needs a little distraction. I think Hope is perfect for her. She loves taking care of little ones!
Life is grand with a new little one!