Charlie And The Chocolate Factory
(Actually yesterday's post, but again, was not able to get on yesterday)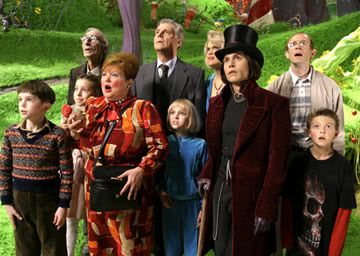 Yesterday my husband, brother, and I saw
Charlie and the Chocolate Factory
. I really wasn't looking forward to seeing this movie, but I just had to! You see, my brother and I know every line of the
original movie
. We used to watch it together all the time. It was something that only we shared. So, when we found out that a new version was coming out, we had to see it(even though it looked like crap)!
We decided to go to the cheapest first run theater in town so that we wouldn't be out much(money) if it was terrible. Since we got there right at the time it was supposed to start, we had to sit in the first row(since the theater was filled with kids)! Then the movie started 20 minutes late! (I guess that's what we get for going to the cheap theater.)
Then it happened...I started liking the movie! There were several laugh out loud parts that I wasn't even expecting. All of the children were excellent, along with their parents. Freddie Highmore did just as good a job playing Charlie Bucket as Peter Ostrum did in the original.
But, there were just a few things I didn't like about the movie. First thing was the Oompa Loompa songs. They were stupid and annoying. There was nothing catchy about them unlike the original Oompa Loompa songs.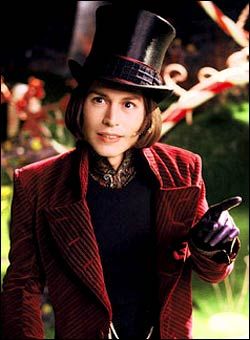 (Scary)


And then there as Johnny Depp as Willy Wonka. He was not good at all! He looked funny, and he portrayed Wonka as a scary freak(and I think Depp was too young to play Wonka)! Plus, the movie went into Wonka's past...which the book never mentions. I didn't care to see any of his childhood and it didn't make his character any more likeable by showing him as a kid.

(Lovable)

All in all, I did enjoy this movie. If this had been the first Chocolate Factory movie, I would have no problems with it. But, all I did was compare it to the original. But like I said, it was a good movie. I plan on buying it as soon as it comes out on dvd just to put it next my original Willy Wonka and the Chocolate Factory dvd.