My Piggy!
Another post idea, this time from
Robin
! Thanks honey!!!
Here is my piggy: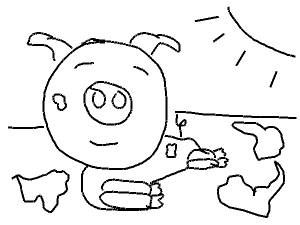 And my results based on how I drew my piggy:
Toward the middle, you are a realist.
Facing front, you are direct, enjoy playing devil's advocate and neither fear nor avoid discussions.
With few details, you are emotional and naive, they care little for details and are a risk-taker.
With 4 legs showing, they are secure, stubborn, and stick to their ideals.
The size of the ears indicates how good a listener you are.
The bigger the better. You drew medium sized ears, you are a good listener.
The length of the tail indicates the quality of your sex life.
And again more is better! You drew medium sized tail.
My own piggy page is
here
!
And
here
is where you can draw your own!