Sleepover!
I had so much fun last night. I kept the red-head overnight for the first time. His parents have never had a night to themselves at home before and I wanted to give them a special C-mas gift.
I also had my nieces over. They are such a joy and they played really well with the two boys. After playing and making cookies, we watched
The Little Mermaid
and the kids fell asleep on the couch(along with me).
The girls ended up sleeping in my bed. It was about 1:30 am when they came into my room wanting me to turn on the cartoons for them. I said that it was way to early and that they needed to go back to bed. The youngest was too scared to go back to sleep in my sons room, so she crawled in bed with me. The oldest found out and joined her sister. We ended up kicking out my hubby since he was taking up too much space. Heehee!
Around 8 this morning, all four kids were up so I made cinnamon pancakes. Yummy!!! After getting sticky with syrup, they all got washed up either in the bath or in my shower. Then I got to braid my oldest niece's hair. I love doing this, it's so girly! I can't wait to do up my own daughter's hair some day.
Anyway, here is a pic of the four of them. My hubby had just made them a blanket fort with all the chairs, benches, and blankets around the house. They had so much fun!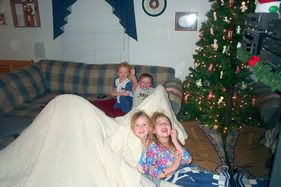 Oh, the tree in the background is for
Lo
. She was wanting other bloggers to show off their decorated C-mas tree. Better late then never Lo! Btw, all the little white men on the tree are doughboys.