Simply Irresistible!
I found an ice cream flavor that I could not pass up. I had to buy some especially since it has 30% fewer calories than regular ice creams(or so the
container
says) and it was on sale. It has a mix of vanilla and caramel ice cream with Girl Scouts samoas cookie pieces. OHHHH MYYYY GOSH! It tastes soooo good! I had just a few bites of it as soon as I got home from the store with it. I was in heaven. First off, samoas are my all time favorite scout cookie. I just love the toasted cocoanut and chocolate. And then to mix it with ice cream...genius! I just hope this stuff doesn't ruin my diet.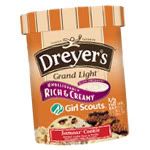 Life is grand with samoas in my reduced cal ice cream!