Spur Of The Moment
At the last minute, my hubby and I decided to get away for two days (so sorry for not posting). We were up till 2 am on Thursday night planning and scheduling a short trip for our family of three. Since both myself and my hubby were off on Friday, we thought a little vacation would be in order...and it's the only family getaway we are having this year.
We thought about going to a water park like
Wyandot Lake
for the day, but I didn't feel like walking around in the hot sun all day with a three year old. So, my hubby and I looked into indoor water parks. We decided on the beautiful
Kalahari Resort
!
We had such a great time!!! It was sooo nice to not have to worry about sun screen, tube rental, or long lines! This particular hotel has the largest indoor water park in Ohio. I couldn't believe how big the place was! It even had a few water tubes that went from the inside to the outside of the resort, and back in again.
I really wish I could have ridden the
zip coaster
. Not only does the ride propel you, but it goes uphill!!! It looked like so much fun, but you needed two people to ride it. Since someone had to watch the boy, I wasn't able to experience this water coaster. But I did get to go on the rest of the rides (except the family tube ride since our son wasn't tall enough).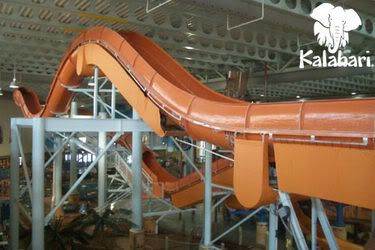 The resort also had an outdoor heated pool along with a water play area. We stayed outside for about 30 min and then decided to get out of the hot sun. My son then played in the kiddie area that had a slide for his size. He had such a good time in that area...and an even better time in the
Wild Kingdom
.
I def think that we will go again next year. And I would love to go every year after that!!! I would recommend an indoor water park to everyone!
Btw, I will be posting some of our pics later today if I get a chance! Until then, just remember that life is grand!!!