I Love Days Off
Wow, it's been a pretty good 3 day weekend. I didn't think I would get any computer time today, but since my hubby decided to go see a movie with my dad, I'm here alone with nothing to do. The boy is in bed and I'm just to wired to go to bed myself. So, here I am.
We had a great day today. It was my turn to sleep in, and boy did I take advantage of it! I stayed in bed till 11!!! It was wonderful! I love sleeping in...even though it is a waste of time. But hey, it's one of my fav hobbies!
My sis came over and we decided to catch a movie. We went and saw The Brothers Grimm (
Will and Jake Grimm are traveling con-artists who encounter a genuine fairy-tale curse which requires genuine courage instead of their usual bogus exorcisms
). It was pretty good flick. I loved how all of the different fairy tales were weaved together to make a great story. I don't think I will buy the movie or even see it again for that matter, but it was a good way to waste a few hours. Plus, it has one of my fav chickys,
Monica Bellucci
, in it. She is so beautiful! Here's a pic of her and Jake (played by
Heath Ledger
).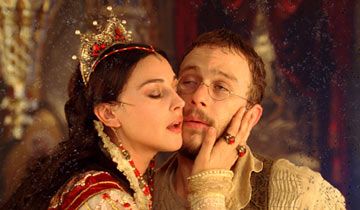 Then this evening the hubby, boy, and I joined my parents and siblings at my great aunt and uncle's house. We all got together for dinner and dessert to celebrate my great grandpa's 97th birthday. I can't believe how good he looks for his age. He still drives around a little bit, but he has lost some weight. He just gets to tired to prepare and eat his meals. And he is too stubborn to accept any help or to move into a home. But, ya gotta love him!
I hope your day went well!
Btw, life is grand when you're 97 years young!