Busy Again
Last night was Andy's party. He's finally
home
after
serving
since January!!! It was so nice to see him! And he looked pretty good too! When I hugged him hello, I didn't want to let go. I was (and still am of course) very grateful for everything he has done for our country.
Here's a pic of Andy in Irac.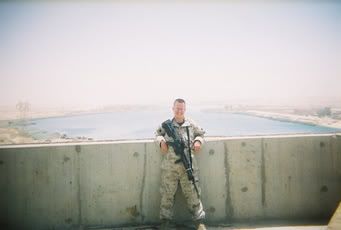 Today my hubby and I have tons of things to keep our hands full. Already this morning he has been working on a few maintenance issues at a
friend
's house. I will soon be baking a cake and then cleaning the house for an OSU party tonight. We also have to get over to my hubby's grandparents house where more family has come into visit. Then we're off to one of my hubby's co-workers house for his annual party (I'm bringing the dessert-the cake). After that, we will head home for the Buckeye game.
Ahhhh, I'm tired already!!!