Lt. Michael K. Healey

Lieutenant Michael K. Healey was only 42 when he was pronounced missing after the attacks on the World Trade Center. He is
one of six in the Bronx's Fire Squad 41
who haven't been seen since September 11th. Teresa, his wife of almost 20 years, knows that "he wouldn't have wanted to be anywhere else". His family of five lived in East Patchogue, NY, and Michael had been fighting fires for 18 years.
According to his wife, Michael did everything from grocery shopping to cleaning the house, to helping his son with the car. He also loved to clean while on the job since it was a time for him to bond with his co-workers. He reluctantly gave up the cleaning to focus on the paperwork needed to be done by being a lieutenant.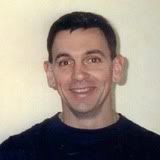 It meant a lot to me to have a tribute for a firefighter. I know that if my uncle, a firefighter, and my father, a police officer, had been in New York during the attacks, they would have done with Michael did...step into those buildings to help others out. His story means that much more to me knowing that he didn't have to go in that day, but he put others before himself. He sacrificed his own life to possibly save the lives of others.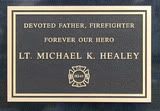 Guest book for Michael