Big Boy!
Since my family didn't have any plans for last Saturday, it was decided that my hubby needed to again work on potty training the boy. We have tried a few times in the past couple months with no success. I think my son just needed a little more time.
Well, this Saturday went by with only three little pee accidents...and all within a two hour period. Besides that, my son earned himself 5 pee in the potty reward stickers! We were so proud of him.
Yesterday my son went all day without any accidents! He has 6 stickers to prove it. He even went potty in a restaurant bathroom. I bought him one of those special
seat covers
for little bums. It's really cool! It folds up and fits in the diaper bag. My son likes it since SpongeBob is all over it.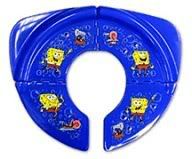 Life is grand with a potty trained boy!