Purchased!!!
I am so excited! I get to watch my new copy of Sin City this week!!! I bought just a few hours ago with my Walmart gift card (that G and I got for our anniversary). I love this movie! It's def not a movie for everybody...but I love how it's in black and white with the splashes of color in it.
What's cool about the release of this movie is that you can pick out what dvd cover you want. There are
four covers
to choose from and here is the one I got.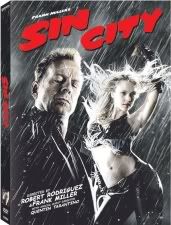 Ahhh, I can't wait to watch it!