Savannah
Whenever my hubby and I go away on a trip, we always have to visit the local mall. On the way back from shopping, we saw signs for Savannah, Georgia...it was only 93 miles away! So on a whim, we decided to head to the neighboring state. We stopped at the visitors center to get a few maps and that's when I remembered that
The Lady & Sons
restaurant was in Savannah! This restaurant is owned by Miss
Paula Deen
-my favorite cook on the Food Network channel.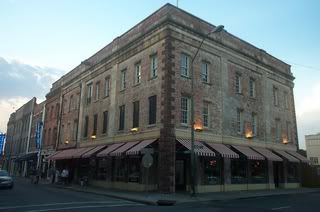 (Pic my hubby took of the outside of the restaurant)
The three of us originally decided to just go in for dessert since I knew that the food was probably going to be expensive. So, we put our name in and were told to come back in about an hour. While waiting, we walked the streets of downtown Savannah looking for someplace to have dinner. We ended up getting some great pictures of the harbor while my hubby helped me walk on the cobble stone streets...which was very difficult while prego and in flip-flops! :-)
After our hour wait, we still had not eaten dinner (it was about 8pm by this time), so when our name was called at The Lady, we decided to go ahead and have dinner there. The hostess gave up a little card that we needed to take to the front entrance. Once there, we were told to take the elevator to the third floor where we were to be seated. We had an excellent table near the buffet and we also had the sweetest waitress. She had the thickest accent and she called all three of us hun...I loved it!
The three of us opted for the buffet even though there was not much selection on it. At $17 a person, it was the cheapest thing on the menu...but boy was I surprised!!! I had the best dinner (not cooked by my mom) that I have ever had in my life! The sweet potato casserole was to die for! They were cooked with their skins on in this sweet caramel/sugar and nut sauce. I have never had such delicious sweet potatoes! I also had mashed potatoes that didn't need any salt, fried chicken with fantastically crispy skin, and macaroni and cheese melted in my mouth. It was all so delicious...and none of it needed any salt, ketchup, pepper, or any other seasonings. I even tried some of my hubby's lima beans. Even though I hate lima beans, I fell in love with these! They didn't need any salt and they were so creamy! I wish I could have eaten more!!!
My hubby loved the cheese biscuit and the potato cake that was served with our drinks. He even cut up the cake and poured on some real maple syrup...he was in food heaven! He and I both skipped the salad bar to head to the "real food" bar and we ended up eating until food came out of our eyes and ears (I don't know how we managed to eat our desserts after all that)! We needed to be rolled out of the restaurant!
The bill really wasn't that bad considering all the fantastic food we had! And the waitress didn't charge us the $9 buffet price for our boy (three and under is free, but since she thought our four year old wouldn't eat much, she didn't charge us)...she got a really nice tip for that!
If you are even near Savannah, I would highly suggest this place!!! Def go for the buffet and you will not be disappointed. Just remember that you will prob have to wait about an hour for a table (since the place is so popular), but it is sooooo worth it!