Food Network
I love watching the
Food Network
! I think it's because I just love anything having to do with food! And I love learning new and different ways to cook my favorite meals. I could watch the food channel for hours...if I had the time! I do try to watch at least one half hour cooking show a day. Most of the time it's
Everyday Italian
with a
Giada De Laurentiis
. She shares recipes that she learned when she was a child, but she does it so beautifully! She is quite a hottie...heehee! And apparently I'm not the only one who thinks so...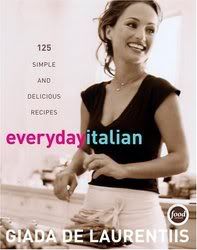 My son (who is 3) and I were watching a little bit of tv on Friday. It was his choice for the next show so I flipped around asking what he wanted. I told him he could watch a cartoon or Giada on the food channel. He surprised me by picking the gorgeous Ms Giada! I guess he likes her as much as I do! Heehee!!!
Life is grand with a three year old!