"Ogres Are Like Onions"
Yeah...our Halloween pics are finally up! Since my hubby forget his camera on trick or treat night, we had to use my brothers digital. Then we had to get the right cord for it to transfer the pics to our computer. What a pain!!!
Anyway, as you can see the boy and I did a
Shrek
theme with him as Shrek and me as Fiona (when she was a big ogre of course!). I originally thought about doing a Star Wars theme, but the Vader costume was just too expensive and I couldn't find a Yoda costume for the boy. As I was looking through costumes at a nearby store, I found the dress I am wearing below. It was some sort of Renaissance outfit, but I thought it would be a perfect Fiona dress! I got it for a great deal (30% off) and then went looking for my son's Shrek outfit. I also found it at a great price!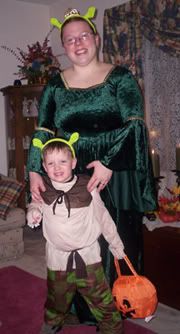 I thought the boy looked so cute especially since he has a Shrek belly...heehee! I was sure to buy it big so he could wear it again if he wanted to. And my dad was loving our costumes! He is a huge Shrek fan and can quote a good majority of both movies. So he had a good laugh when we came in the door dressed the way we were!

Oh, my sis was going to be the ass (Donkey), but then decided to do Puss In Boots. We (as in me) found a cape, hat, and cat tail for cheap! She wore all that plus her high black boots and I put orange streaks in her hair. She looked pretty good, but only wore it for a half an hour. Party pooper!!!
Here is a pic of my hubby...Mr. Jack O. Lantern. I think it suited him...heehee!