Chinese Sundays
Since some of you asked about this dish, I thought I would just make a post about it!!! Excited yet?! I didn't think so...heehee!
This food dish is something my mom's family has done for years. It's great for party's with a large group of people. The host makes up rice and a chicken sauce made by mixing chicken and cream of chicken soup. Then the guests all bring toppings to put on the dish. Last night we had people bring cheese, diced tomatoes, diced onions,
chow mein noodles
, sour cream, canned pineapple, coconut, chopped nuts, and cherries (you can use a lot more toppings...like peppers, celery, bacon bits, etc). Unlike my hubby, I don't all those toppings on my chicken and rice. I start with a good base of rice, then I add about 2 ladles of the chicken sauce. Then goes on the cheese (it goes on first so it can start melting), then some pineapple, nuts, chow mein noodles, coconut, and finally a cherry on top. Believe it or not, even with those weird toppings, the dish tastes fantastic!!! It's probably one of my favorite meals!
Here is a pick of my hubby's Chinese sunday from our leftovers lunch today. Notice how it looks just like an ice cream sunday.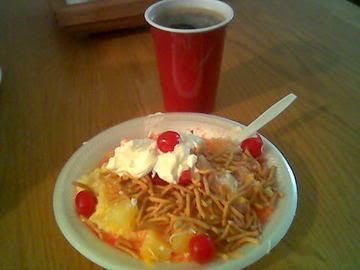 Today he put on cheese, coconut, chow mein noodles, pineapple, sour cream and cherries...he would have put on more, but that's all the toppings we had in the house! Heehee!!! And yes, the chicken and rice is somewhere down on the bottom!