My Mother-In-Law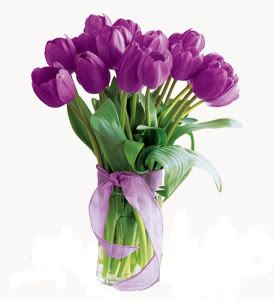 Today is the second anniversary of my dear mother-in-law's passing. She was one of the kindest ladies I have ever met...and the best mil a girl could ask for!!!
I remember seeing her the day before she passed away. I found a nice pre-lit Christmas tree for her to replace her older, small tree in an after Cmas sale. So my hubby, son, and I went over to her home and set up the tree while she and my father-in-law were out. I can still remember her surprised expression when she opened the door and saw us standing there with her new tree. She was so happy!
A few hours later she went home to be with her Lord.
Today my hubby picked up our son during his lunch hour. Together they went and picked out some purple (her fav color) tulips for her grave. I thought that it was very important for my son to go with his daddy since I never want my son forgetting his Mamaw (she passed away a month and a half before his second birthday). I always want him to remember what a wonderful woman she was.
We'll see you again someday Mamaw!