The Producers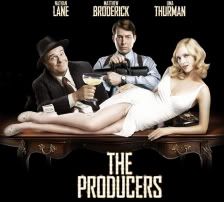 I really wanted to see
The Producers
after watching part of it at the
Tony's
. I laughed my butt off seeing the old ladies dance on stage...really funny! Then the movie came out, but we really didn't have the time to see it, and frankly, we forgot about it. So when I found out it was at the cheapo, I had to see it.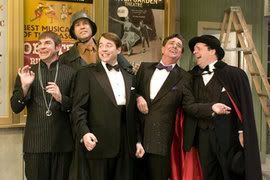 I was scared when it first started since I thought Matthew Broderick's character was really over acting. I understand that this was a theatre production made into a movie, but his performance was a little too much for me. It got better as the movie went on, so I ended up really liking the movie. My husband did as well. Since he used to be on the drama team in high school, he could appreciate all the work that was done in this production. My parents did not. They both didn't care for the movie at all and my dad just about walked out when Nathan Lane started singing. But in all fairness, I told them that the movie used to be on Broadway and that is was a musical.
So, my hubby and I really enjoyed this movie. Will we buy it when it comes out on DVD...probably not. Seeing it once was good enough for me, but it was def entertaining!
Btw, I had a hard time seeing Uma Thurman looking so cute, and singing so well! The last movie I saw her in was
Kill Bill
...where she kicked butt! And she most def didn't sing in that movie!!! Heehee!