I'm Back
Sorry, I usually post earlier than this, but I was so tired this morning. I got the sick baby down (about 7:30) and since my son wasn't up yet, I took a morning nap. It was wonderful, but I'm still exhausted. I just want to sleep!!!
We had a pretty good weekend. The
band
that my hubby is involved in had a special concert on Saturday. They were wonderful! The band sounded fantastic (thanks to sound man
Guru
), and my hubby did an excellent job singing and playing the guitar. I'm looking forward to hearing it again since the performance was recorded.
(My hubby is in blue on the right.)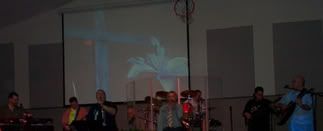 We also had some very yummy food at the concert. My son and I filled up on veggies, meatballs, cheese, and crackers. Then we had cookies and hot chocolate for dessert!!! Hmmmm, so good!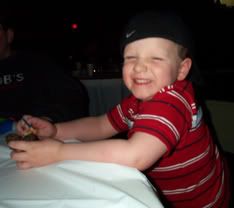 My son did really well while his daddy was playing on stage. The boy kept quiet (well, most of the time!), and played with the toys I brought for him. He really had a great time!!!
Have a great Monday everyone!