Short Day
I've got a nice, short day with the boys today. Their mom is getting off at 4, as well as my hubby, so I'll be able to get a head start on cleaning. I need to mop or vacuum all the floors, clean the bathrooms, and pick up a little of the kitchen. My hubby and I are hoping to finish all the cleaning by tonight so we can relax the rest of the weekend! Although, Easter Sunday won't be very restful for me. We are expecting 14 people over here for lunch, so I have a lot of baking to do after church. I've got to make a green bean casserole, au gratin potatoes, deviled eggs, and sweet potatoes before we eat at 1pm.
Btw
Texas
, yes, I am piercing my mom's ears by myself (she has given me 4 of my 6 piercings, so it's only fair!). She has a special piercing gun that she uses when her customers (at her beauty salon) want new ear, and sometimes belly-button, piercings. It looks kind of like this: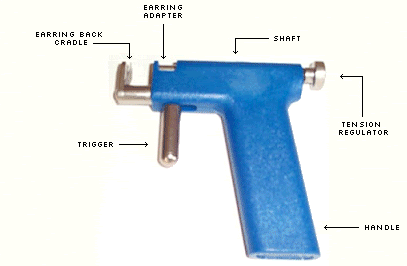 We will be taking a black pen and marking where she wants her new holes. Then we slide the special piercing earring into the gun. And then I will aim...and shoot (x 2)!!! I can't wait!
Have a great weekend everyone!!!