Busy Weekend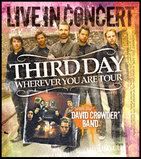 This past weekend was pretty great! It started off with a
Third Day
concert on Friday night!!! Since my dad knows what a huge TD fan I am, he decided to take my hubby, mom, and I to the concert! What a treat!!! We had floor seats, but since my mom and I couldn't see over a few people's heads, we decided to move up. We ended up finding some excellent seats that had one of the best views in the place...and no one was in front of us! And yes, being preggers and in the presence of my all time favorite band, I might have teared up/cried during one or two of the songs. :-)
On Saturday my father in law came over and we headed out of town to do some shopping. He got himself an
OSU jacket
for $8 and then we had an excellent late lunch together before the long drive home. Then later that night we all were able to watch the OSU victory!!! What a great game!
On Sunday we had lunch with my dad's side of the family since we were celebrating my grandpa's 70th birthday. Then that evening we headed to our church's Fall Festival. We had some really cheap food and then my son painted a pumpkin, played in a hay maze, had fun in a big jumpy, and got some candy from a clown. He wasn't interested in the face or hair painting since he hates getting dirty, but I still think he had an excellent time!
How was your weekend?