We're Back!
My family had a great time this weekend. Like I mentioned, we headed to West Virginia right after Sunday church. We stopped to have some lunch, but got to Oglebay around 3. We checked into our room and I was worried about where my son would sleep. I forget to get his sleeping bag since our room was supposed to just have one queen size bed. I was hoping the room would have a couch for him to sleep on, but as we walked in, I was surprised to see 2 queen sized beds in the room! I was so very happy!!!
(You know those signs where it shows you what room numbers are what direction? Well, we were the only indoor room on a particular floor...so the sign only had our room number on it! We even had our own pop and ice machine! We will def try to stay in the room if we visit again!!!)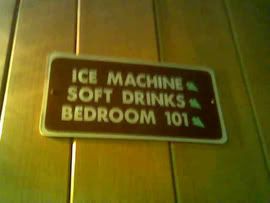 After we got settled in to our room, we headed out to explore. We visited the pool and the surrounding shops. We got a few C-mas gifts and then headed to
Hoss's
for dinner. When we were finished, it was finally dark enough to see
the lights
. We drove the 6 mile route and my son loved every minute of it! He especially loved the bridge of lights...very cool!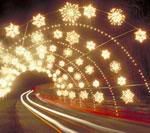 (The boy and I outside one of the shops)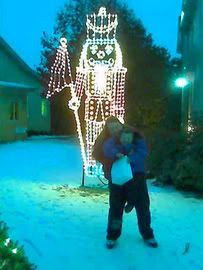 (The boy in Santa's chair)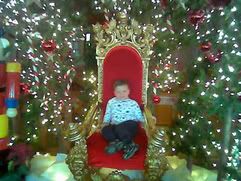 I would def like for this to be a yearly tradition for us. We had a great time exploring and it was nice to get away for a few days...plus, it really didn't cost that much! (You know how much of a penny pincher I am...heehee!!!)
Btw, my grandpa is doing well (thank you for all your prayers!). He doesn't need his hip replaced, but they will be putting a
pin
in it. And we are still not sure if he will be going home or not. But thanks again for your prayers!!!