The Site Of The Day!!!
Awww, thank you so much for choosing me for the site of the day
Michele
!!! I can't believe it! I feel so privileged! And for those who are visiting, I do have some "
glorious news to share
"! My husband and I are expecting our second little one in October! I'm due around the 24th, but I'm hoping to make it past trick-or-treat night since I already have a costume (when I was prego with my son, I wore a Pillsbury Doughboy outfit for Beggars Night). But I don't think my doc will let me go 10 days late again like she did with my first.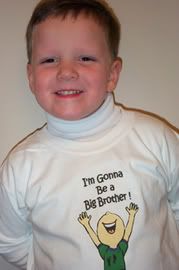 This is the picture I'm sending out to all the relatives to let them know of our good news! I thought it would be better than calling everyone since this way they can show it off.
Btw, I have a feeling that I'm carrying another boy. Even though I would love to have a girl, I think it would be great for my son to have a little brother. Then we can try for our little girl!!!
Any predictions?