Mother's Day
For Mother's Day this year we have decided to stay home and have a cookout. I think it's much better than trying to fight the restaurant crowds like we did last year. Plus, I've really been craving grilled meat! I don't know why!!! I just think about biting down into a nice juicy hamburger or a well cooked steak and I find myself in my happy place (and it's one of the many reasons I think I'm carrying a boy).
So, this Sunday
my hubby
will be cooking all the food! My parents and siblings will be joining us for corn on the cob, baked potatoes, deviled eggs, and my hubby's famous meatloaf burgers! I can't wait to eat all that yummy food...even though the hubs is preparing it! :-)
I need to get my mom's gift sometime this weekend. I have had a hard time deciding what to get her, but I think I might pick her up an
October birthstone pacifier
. I gave her a March pacifier for her necklace right after my son was born, so she's due for an October one as well (for the new baby)!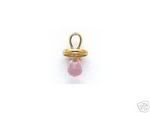 Do you have any special plans for Mother's Day?