No-Bake Love
(Note-not a pic of my no-bakes, but it's pretty close to how mine look!)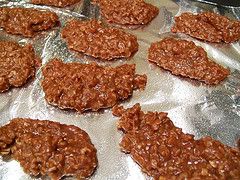 At our last church fellowship, I made some pasta and my famous no-bakes. People love them wherever I go, so I thought it would be the perfect dessert to take. Well come to find out, our church's pastor (and my care group leader) loves no-bakes and was happy to know that I make them. He ended up telling me that he would love for me to bring them to group sometime cause he was only able to enjoy one cookie that night.
Well, I ended up making them last night to take to care group. My pastor was shocked that I would make cookies just cause he requested them! He ended up eating 8 in an hours time!!! I've never seen anyone eat these cookies like he did...not even my
hubby
or even
Guru
! This guy (who is really skinny btw)was obsessed!!! And he got down on his knees to thank me when I told him that the he could take home the leftover cookies! It was too funny!!!
Btw,
here
is my recipe if you are thinking of trying them. And, I will be attempting a few variations here in the near future. My pastor wants a white chocolate no-bake and my hubby wants me to try to make a coffee flavored no-bake. I just hope the hubs doesn't mind all the taste-testing!!!